ROOFING:
WHAT SETS OUR ROOFS APART FROM THE OTHERS?
Regardless of which material you choose to use on your new roof, a Weather-Tek roof is a better choice from the start.
Not only do we follow the most up to date industry and manufacturers standards of installation, we take great pride in our specific methods and components. We utilize specific roofing components that are upgrades with many other builders. It is because of these practices and components that are a standard on a Weather-Tek roof that we are a step ahead and above in our field. These practices and investments ensure that our roofs are much less susceptible to system failures and issues over time. The commitment to exceptional quality and workmanship and customer satisfaction are also our primary operating principles.
OUR STANDARD COMPONENTS:
Ice & Water Shield:
A self-adhering roofing underlayment that is designed to provide premium waterproofing protection. We place this product along all the eaves and in the valleys of your roof.
Protects your roof structure & interior space from water infiltration caused by ice dams & wind-driven rain. Resistant to cracking, drying and rotting, providing long-term waterproofing performance
Aluminum Drip Edge:
Drip edge is a metal flashing that is installed at the edges of the roof to help control the flow of water away from the fascia and to protect the underlying roofing components.
We install Drip Edge on the whole perimeter of your roof. It protects the edge of the decking from water penetration during wind driven rain. Extends the longevity of your roof, improves its overall effectiveness and adds a distinct aesthetic curb appeal.
Synthetic Underlayment:
A woven synthetic underlayment material that replaces traditional felt paper. Exceptionally stronger and tear-resistant, providing safer work surfaces for installers and superior redundant systems of weather protection. These products are usually made from long-lasting polymers, which provide added strength and longevity. This type of underlayment is typically moisture-resistant, and when it's installed correctly, it offers better protection from the weather compared to felt.
Lifetime Pipe Collars:
This flashing is the ultimate insurance for your pipe vent. It is made with thick silicone and includes a factory cut collar to seal to the pipe to specific size. These pipe flashings are designed to last many decades without maintenance and are guaranteed to last the life of your roof.
Metal Box Vents:
These box vents will last the lifetime of your roof and will not degrade or fail due to heat, sun exposure and freezing. They provide sufficient air circulation to keep your attic and roof top cool and increase the longevity of your shingles.
Metal Flashing:
Standard, pre-finished, baked-on enamel flashings fabricated from high quality aluminum. Kick-out flashings to divert water away from side-walls and off the roof. Apron flashings custom bent and installed to keep water from seeping into roof penetrations. Brick wall flashings cut into mortar joints, per industry standards, and sealed with high-quality GEOCELL 3300 sealant.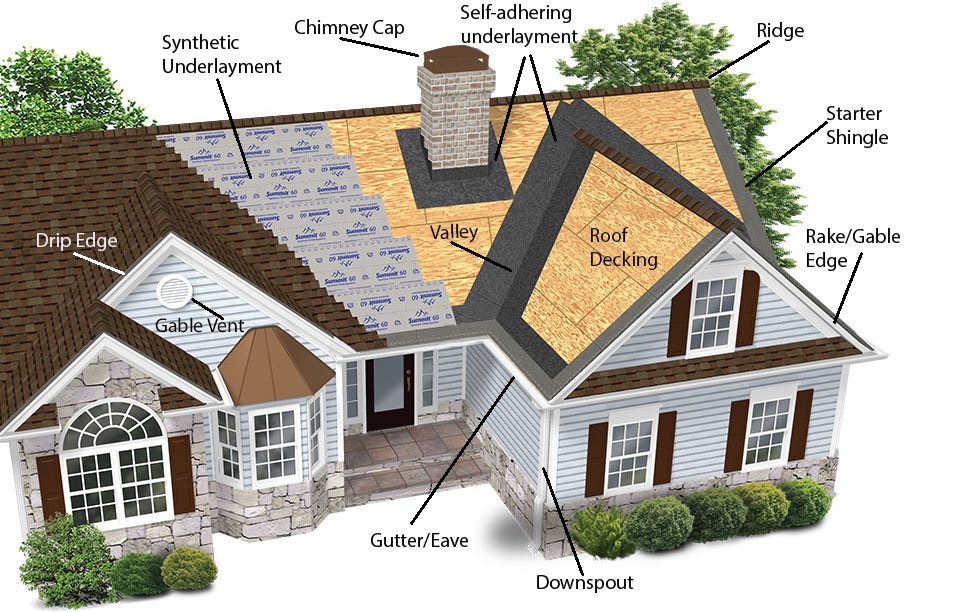 ASPHALT COMPOSITION SHINGLE:
Dimensional Asphalt Shingles, also known as Architectural Shingles are the most popular shingle being installed on roofs today. This type of shingle is the base standard for all Weather-Tek roofs. Architectural shingles have many advantages of which strength and durability are premier. They also have a much better appearance on your roof and can be easily identified next to a house with a traditional 3-Tab shingle.
Traditionally, they are composed of layers of a heavy fiberglass mat base and ceramic-coated mineral granules that are tightly embedded in carefully refined, water-resistant asphalt. Their several layered composition gives your roof textural look similar to shake.
Architectural shingles are heavier and meet the building code standards here on the Outer Banks and are rated to withstand the constant winds and storms.
Architectural shingles come in a variety of colors and styles to compliment your current siding and trim or to give your house a fresh look.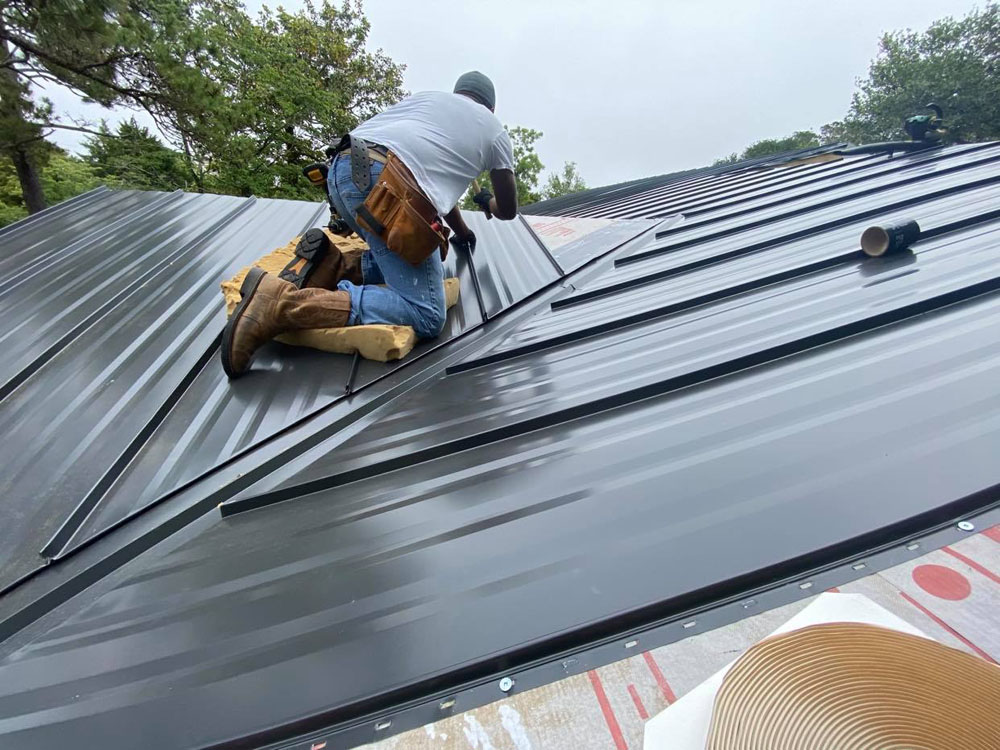 METAL PANEL ROOFING:
There's a lot to be said for a metal roof's looks and top-notch performance. The right roof can liven the home's curb appeal and provide years of superior low-maintenance protection. Today's residential metal roofing comes in a wide variety of styles and designs. Metal roofing materials are not only light weight but can be very energy efficient. And unlike asphalt roofs, which require re-roofing every 15 to 20 years, metal roofs won't decompose. These roofs can withstand rain, fire, earthquakes and hurricane-force winds.
Although the initial investment in a metal roof is steeper than most other roofing materials, over time a metal roof can save a great deal of money and hassle. This is because there is no second investment in roof replacement, or the labor that comes with it. Metal roofs are practically maintenance-free, requiring only the occasional rinse with a garden hose. And most metal roofs come with a 30- to 50-year warranty. Metal roofing is fabricated from a wide variety of metals, including galvanized steel, galvalume steel, aluminum, copper and zinc alloy—even stainless steel. The metals differ in properties, and the type used sometimes depends on the design of the roofing panel.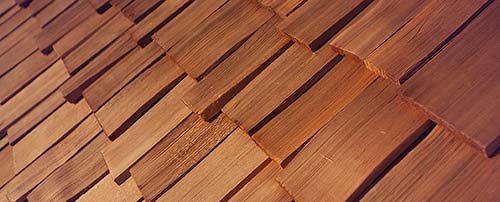 WOOD SHAKE/SHINGLES:
Hardwood shakes or shingles are another option for your new roof.
There is however, a difference between the two. Shingles always have a smooth and uniform look, not just across each plate but over an entire roof. This is due to the traditional manufacturing method of sawing off singular cedar shingles from one block of wood. Wood shakes, on the other hand, are traditionally hand split, which leads to a rougher texture and finish. An appearance like this manifests as a lack of uniformity across each shake and covering for the entirety of the roof.
Wood shakes can be split or sawn in multiple ways, each of which leads to a unique look and feel. You can choose heavy split and resawn shakes — this design is where the back is sawn, but the front is split in a method to show the natural wood. A heavy split is perhaps the most rugged look you can find in shakes. Medium split and resawn shakes are not as thick and heavy, though they also have the rough and rustic texture. Tapersawn shakes are closer to shingles in appearance, providing the least rustic aesthetic among the three styles.
Since wood is a natural insulator, your wood shake shingles will ensure warmer indoor temperatures in winter and will naturally cool your home in the warm summer months. This makes wood shake a good choice if you want to increase the energy efficiency of your home. Cedar has natural preservatives that protect it from the harsh UV rays and moisture. Wood shake shingles are also pest-resistant and have natural wind resilience comparable to newer roofing materials. The inert chemical composition of natural wood shakes also prevents shrinkage and gives them an extra level of durability.
Quality workmanship done right the first time
Address
349 Water Plant Road
Unit-F
Manteo, NC 27954