When Integrity and commitment matter.
Welcome!
Thank you for considering Weather-Tek Construction & Restoration for your roofing and exterior restoration needs.
We are the Outer Banks premier roofing company. We base our business model on a commitment to customer satisfaction, quality craftsmanship, a dedication to using only the highest quality and modern materials available and adhering to the highest standards of manufacturer required applications and building codes for our area. Your roof not only provides important protection to your home but it is also one of the most significant aspects of architectural style and design. A Weather-Tek roof is not only built to last, it is built to enhance and improve your home's value and curb appeal.
Does your roof leak? Does your ceiling or walls inside have staining? Do you suspect mold or mildew? Do you think you may have damage after an extreme weather event? Have you had patch after patch applied to your roof to "fix" these problems?
These are all signs of trouble for your roof or exterior siding. Roofing and exteriors are the most important components and assets of your home or business. Exteriors protect you from the harsh outside environment, especially here in the Outer Banks area and they are often the most troublesome. Whether from age, inferior application and materials or an extreme weather event, WeatherTek can identify the trouble and accurately estimate the cost of repair or replacement.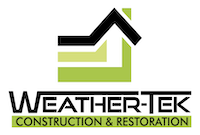 Call us today for a free and timely estimate!
Not sure if your repair or replacement can potentially be covered by your homeowner's insurance? We can help guide you through the claims process with your insurance company. We have years of experience in dealing with storm related claims.
We have experience with over 4,000 claims!
We are licensed and insured and hold several certifications from materials manufacturers including Owens Corning and GAF. 
Address
349 Water Plant Road
Unit-F
Manteo, NC 27954